Sometimes, your customer service agents have to take over the conversation if the AI bot can't answer customers' questions.
This article shows you how to deactivate the AI bot and take over the conversations with customers.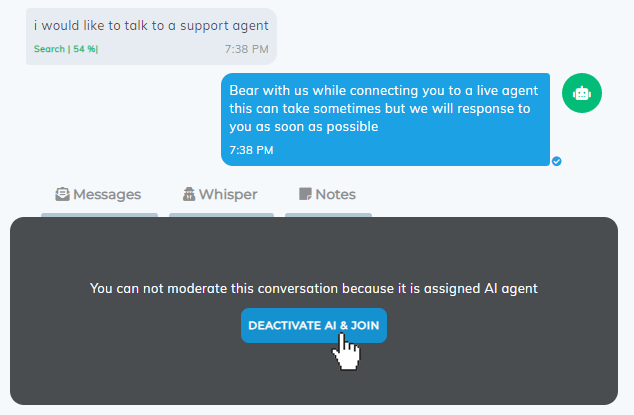 Go to Agent Desktop
To go to the Agent Desktop:
Select your workspace. It'll direct you to the Dashboard.
Click on Agent Desktop.
Deactivate AI Bot
To deactivate the AI bot:
Click on the conversation you want to join.
Click the DEACTIVATE AI & JOIN button.
A pop-up will appear asking you to confirm taking the conversation.
Click the Confirm button.
Type your message and click Enter or the Send button.
ℹ️ Customer will receive a sound notification with every new message even if he is browsing another tab or minimizing the conversation from web chat