Intents allow your AI system to understand the user's intention.
Accordingly, it replies with the proper answer that fulfills their needs.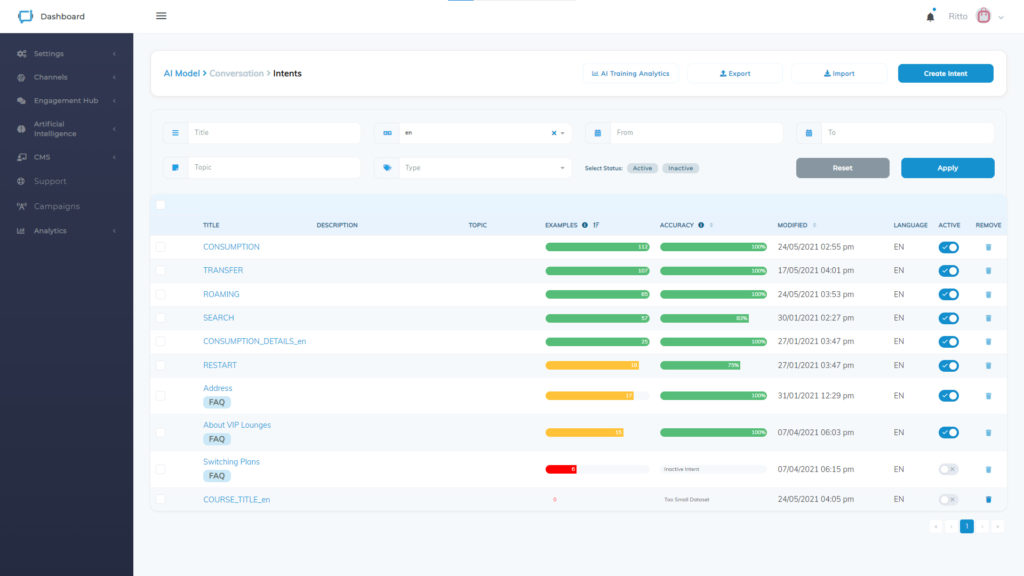 How to access Intents
To access intents:
Select your workspace if you have more than one.
On the left menu, click on Artificial Intelligence.
Click on Intents.
Creating an Intent
To create an intent:
Click the Create Intent button.
A pop-up window will appear.
Adding Intent Info
Type the Intent Title.
Type the Intent Topic.
Select the intent language.
Type Intent description.
Select Intent Type. There are three types of intents:
Default: The AI assistant already have answers for those intents, and you can view/edit answers from the skills editor.
FAQ: Intents that should have answers filled by you. See (How to train your chatbot to answer FAQ).
Request: Intents about the answer related to an item with options from CMS.
Creating Examples
Click the Create Examples tab.
Click the User Example field.
Type unique examples of what the customer might say.
Click the Create button.
Importing Intents
To import (upload) intents:
Click the Import button. A pop-up window will appear.
Click the Choose File button.
Select your Intents CSV file.
Click the Open button.
Exporting Intents
To export (download) intents:
Click the Export button.
Click the File name field and Type the name of the Intents CSV file.
Click the Save button.
Editing Intents
To edit intents:
Click on any Intent you want to edit.
Click on View Intent Info. a pop-up window will appear.
Select the intent info fields you wish to edit.
Click the Save button.
Removing Intent
To remove intents:
Check the Intent you want to delete.
Click on Delete Selected.
Or
Click the Trash icon.
A pop-up window will appear to confirm the deletion.
Click the Delete button.
ℹ️ Intents that contain examples will not be deleted.
ℹ️ Please remove the samples first before deleting the intent.
ℹ️ An intent is considered valid when it has at least 3 examples.