Changing agent status can help your customer service team to:
Manage their time answering customers.
Have their break times effortlessly.
This article shows you how to add or edit your agent status on Tactful AI.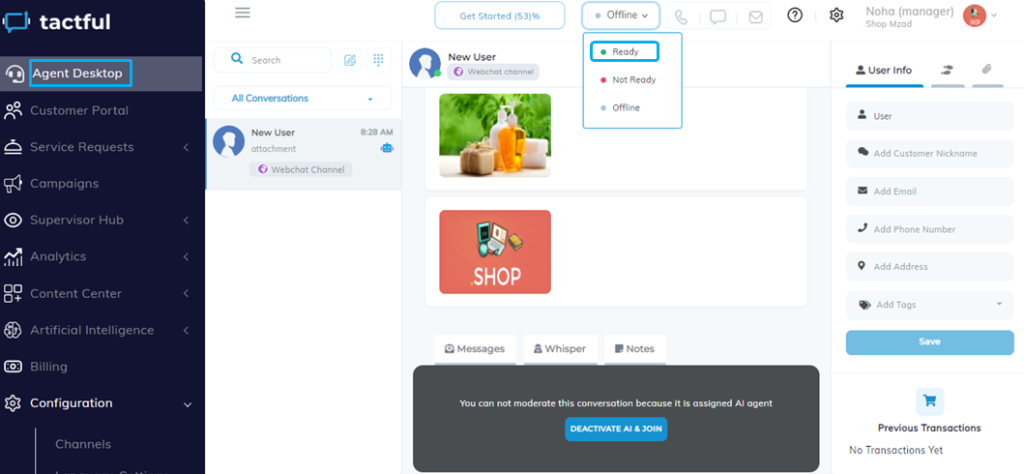 Navigate to Agent Desktop
To go to the Agent Desktop:
Select your workspace. You'll be directed to the Dashboard.
Then, click on Agent Desktop.
Changing Agent Status
There are three statuses for agents:
Ready: When the agent is active, they are directed to the Incoming Conversations, which will assign to the idlest agent in case more than one has ready status.
Not Ready: When the agent is away, or in a break, they can see all conversations and choose to reply to any, the Bot will reply with a waiting message, and the conversation will still be pending, if still pending for a long time, will get back to the Bot again. (should press on Deactivate AI & join).
Offline: The agent won't receive chats, The Bot will send a message: no available agents now.
ℹ️ You can always use whisper mode to help a teammate out.
To change agent status:
Click the box list next to your agent name.
A list with 3 options (Ready, Not Ready, Offline) will appear.
Choose the status you want.